MAYWEATHER AND PACQUIAO AGREE TO FIGHT
MAYWEATHER AND PACQUIAO AGREE TO FIGHT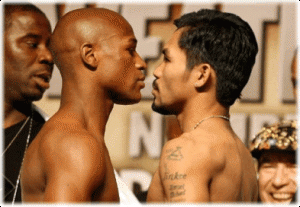 Las Vegas, NV, December 5, 2012 – Floyd Mayweather and Manny Pacquiao will fight May 11 at the MGM Grand Hotel in Las Vegas. The contract was signed early this morning, meaning that after two years of trash talk and lawsuits, the long anticipated fight is finally a reality.
Many boxing insiders feel that agreement to the megafight was reached due to the fact that both boxers are scared to death to get into the ring with rising challenger Killer Kong (26-0, 26 KOs), a vicious brawler who once killed an opponent and vows to do it again every time he sets foot in the ring.
The buzz in boxing circles is that the thought of having to fight Killer Kong has put the fear of God into both Mayweather and Pacquiao. And apparently the only thing the two rivals have ever agreed upon is that fighting each other will postpone indefinitely either of them having to fight Kong.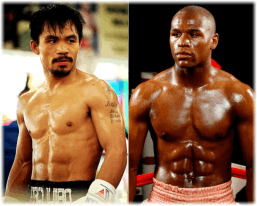 Neither Pacquiao, who is preparing to fight Juan Manuel Marquez Saturday night at the MGM, or Mayweather has commented publicly about Killer Kong. But one veteran trainer, speaking on the condition of anonymity, said that "Floyd gets scared as a little girl at the mere mention of Kong's name".
Kong, who wears a necklace made from the teeth of fallen opponents, fights Saturday on the undercard at the MGM, and if the undefeated brawler scores another vicious knockout, the public will stop caring about the megafight or the fact that this story is a spoof. The public will be screaming for either Mayweather or Pacquiao to fight Killer Kong. And they won't care which one of them is carried out of the ring.
Catch the blow by blow account of Killer Kong's latest fight in the novel Vegas Knockout