THE TEN BEST NOIR FILMS EVER MADE
The 15th annual Noir City film festival is going on now through January 29th at San Francisco's historic Castro Theatre. They are screening 24 crime capers from around the world, so what better time to announce my list of the Ten Best Noir Films Ever Made.
1. THE KILLING – 1956
Directed by Stanley Kubrick and based on the amazing book Clean Break by Lionel White, Sterling Hayden masterminds a racetrack robbery with a great ensemble cast featuring noir regulars Elisha Cook, Jr., Marie Windsor and Ted DeCorsia. This is not just the best film noir, it is frame for frame the best movie ever made.
2. BOB LE FLAMBEUR – 1956
Also known as Bob The Gambler, this French caper film directed by Jean-Pierre Melville offers a perfect blend of substance and style. To be more precise: it's cool as hell. Bob, played by Roger Duchesne, masterminds a casino heist only to complicate matters by hitting a winning streak at the tables during its execution. Stanley Kubrick called this the perfect crime movie.
3. THE BIG COMBO – 1955
A well-insulated mob boss (Richard Conte) makes a monkey out of an obsessed cop (Cornel Wilde) until the flatfoot changes strategy and goes after him through his girl. Lee Van Cleef and Earl Holliman as homosexual henchmen were light years ahead of their time.
4. ASPHALT JUNGLE – 1950
Sam Jaffe portrays perhaps the most fascinating criminal mastermind ever as robbery and double cross propel the action of this character driven caper. Director John Huston sets a gritty urban tone, softened a bit by Marilyn Monroe in an early screen appearance.
5. DOUBLE INDEMNITY – 1944
A woman getting her lover to kill her husband for insurance money is a pretty pedestrian set-up, unless Billy Wilder is directing a script he wrote with Raymond Chandler. Add on-screen sexual chemistry between Barbara Stanwyck and Fred MacMurray, and this movie explodes.
6. THE KILLERS – 1946
Based on a Hemmingway story, director Robert Siodmak provided the blueprint for future filmmakers to rise above cops & robbers cliches. This cautionary tale of double cross and murder made stars out of Burt Lancaster and Ava Gardner.
7. BLAST OF SILENCE – 1961
Starkly cold and purposely slow moving, this Allen Baron tour de force traps you inside the mind of a hired killer and doesn't let go.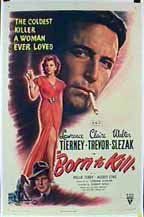 8. BORN TO KILL – 1947
Walter Slezak and Esther Howard provide humorous counter balance as psycho Lawrence Tierney murders his way into San Francisco society.
9. 711 OCEAN DRIVE – 1950
Edmond O'Brien is few peoples' idea of a leading man, but that works to his advantage as he plays a telephone repairman who cashes in big by creating a hi-tech communication system for a national bookmaking syndicate. But greed quickly blinds this cocky average Joe to the fact that he is in way over his head.
10. THE NARROW MARGIN – 1952
Tough guy cop Charles McGraw guards a mobster's wife on a cross country train trip so she can testify before a Los Angeles grand jury. Co-starring noir darling Marie Windsor and directed by the much underappreciated Richard Fleischer (Armored Car Robbery, Soylent Green, The Jazz Singer).